People climb mountains for many reasons. For some, it's a test of physical strength and endurance. For others, it's for the rush and exhilaration. For Alex Jakobson, it was to prove to himself that he can overcome the pain and limitations of arthritis.
Alex was living a great life when arthritis reared its ugly head. He was 35 years old, married to his sweetheart and living in France where he enjoyed a very social and active lifestyle.
"I was playing soccer for the British Embassy team," explains Alex. "I headed a ball and immediately felt pain in my neck. The pain was worse the next day and had spread to my shoulder. After one week, I couldn't lift my left arm or move my neck."
An examination by Alex's physician provided no answers. Finding nothing physically wrong with him, Alex's doctor said not to worry about the pain and that it would likely pass.
Worsening symptoms led to several more doctor visits and a 10-day hospital stay during which Alex was diagnosed with rheumatoid arthritis. Now using a wheelchair, Alex started a treatment regimen that included large doses of anti-inflammatory drugs.
It took five years of treatment and an overhaul of his diet before Alex saw any meaningful results. Eventually he was well enough to wean off of his medications. Six months later his arthritis was in remission and three years after that his arthritis reemerged requiring more treatment.
[caption id="attachment_655" align="alignright" width="300"]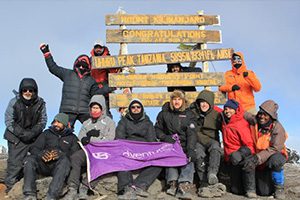 Alex, first row third from right, atop Mt. Kilimanjaro.[/caption]
"When I was in the hospital, I decided I would climb a mountain," said Alex. "I thought that, if I could climb a mountain, I could overcome my arthritis. I picked Mt. Kilimanjaro."
When Alex announced to family and friends his plan to climb Mt. Kilimanjaro, he wasn't sure what kind of reaction he'd get.
"I was surprised. You never really know what it means to other people," said Alex. "Some of my friends were like, 'My mom or friend has arthritis.' It's meaningful for many people, especially those who have been affected by arthritis and want to help find a cure."
One of Alex's donors summed it up best writing on his CrowdRise fundraising page, "Thanks for doing this. People like you make the world better."
Alex set a goal of raising $3,000 to support the Arthritis Foundation, asked his family and friends for pledges, then set out to conquer Mt. Kilimanjaro.
The climb involved trekking through five different habitat zones, starting in a rain forest and ending in an artic zone. The most difficult part of the climb was the final day, climbing from base camp to the apex, more than 19,300 feet above sea level in freezing cold temperatures.
[caption id="attachment_654" align="alignleft" width="300"]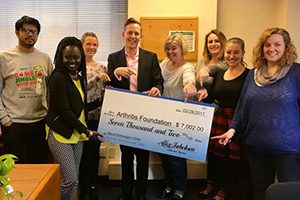 Alex presents check for more than $7,000 to New York City Arthritis Foundation staff.[/caption]
"It was an incredible experience and something I feel very lucky to have done," said Alex. "I also feel very privileged because of the support I received from my family and friends. My goal was to raise $3,000 and I ended up raising $7,127 – way beyond my expectations!"
Today, Alex lives in Brooklyn, New York, with his wife and two children. His arthritis is again in remission and the only residual affect is difficulty moving his left wrist.
"It's hard," said Alex. "When you're in a lot of pain, it feels like there's no end to it. You have to believe that there is an answer for you and never give up."