By Kristine DiDesidero, Mount Sinai, New York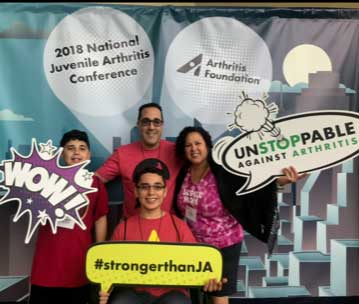 I remember the pain as a child. I complained to my mom about pain in my legs. Some nights I cried myself to sleep. My mom took me everywhere for answers. The doctors told her I had growing pains. I am 4 feet, 11 inches, and stopped growing in fifth grade. The reality is that I've spent most of my life with what I now know as a variety of autoimmune diseases.At 24, recently married, I became ill and was hospitalized. The doctors said they thought Ihad fibromyalgia. Over the years, I've also battled Sjogren's syndrome, ankylosing spondylitis and rheumatoid arthritis. These diseases have caused irreversible damage and progressively diminished my ability to do basic tasks.
Today, I'm also dealing with autoimmune hepatitis, which must be monitored almost daily. It's related to my liver failing last year, caused by an infusion I was taking for arthritis. Step therapy protocols required me to try that medication first, instead of what my doctor originally prescribed, and I almost lost my life.
But none of this will stop me. Though I've suffered personally from these conditions, I'm also witnessing my son, Lorenzo, confront some of the same challenges.
Lorenzo is our first born, and as first-time parents, my husband and I were thrilled with this perfect little angel who came into our world. He was a preemie and was delayed in milestones like crawling and walking. But by the time Lorenzo was 7 years old, he had caught up to his peers and excelled in most things. He loved school, reading, art and playing with friends. He was especially fond of his younger brother, Orlando. Then everything changed in 2009.
Pain Every Day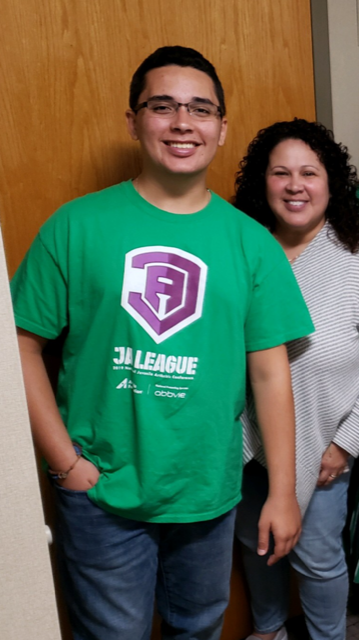 During a family vacation, Lorenzo said his swollen knees and feet were bothering him, so we had to push him around in a stroller. Soon after, at his Little League game, he struggled to play, and at the end limped off the field. On the way home, my husband and I asked what happened. "I just have more pain today than usual," he said. Do you have pain often? we asked. And he replied, "Yes, almost every day, don't you?"
Our son has pain every day.
How could that be? I'm his mom. I would know he was in pain, right? Well, at age 7, Lorenzo had adapted his thinking to believe what he was experiencing was normal, just like I did as a child.
During the next three years, we had numerous doctor visits and so many tests. Lorenzo spent fourth grade in a wheelchair. No answers or diagnosis. He would get better, then worse. Some thought he was faking it; others said it was growing pains. That's when I had had enough. My mom and I heard the same thing as I grew up.
I was determined to get an answer for our son, and after consulting two pediatric rheumatologists, it was confirmed that Lorenzo has juvenile arthritis. It swells his knees and ankles, keeps him from walking and inflicts constant pain and stiffness.
That's when the Arthritis Foundation came into our lives. We learned that JA affects hundreds of thousands of families like ours, even though it's not a well-known disease, which comes in many different forms. We learned that medications have been developed to reduce pain and slow or stop inflammation and joint damage. And we learned there's no cure.
Our hearts sank.

Finding Help and Hope

While they couldn't cure Lorenzo's arthritis, the Arthritis Foundation offered us help and gave us hope. I'll never forget picking my son up after his first summer at the Foundation's
JA camp
and seeing that big smile on his face. Then our family attended the Foundation's
National JA Conference.
We felt we were no longer alone, and that made all the difference.
Lorenzo has tried and failed numerous medications over the past five years. Like me, he was forced to follow step therapy protocols. He wasn't improving, and his condition deteriorated. Two summers ago, on most days his dad and I had to feed him and help him get dressed. Lorenzo had to rely on a wheelchair, or his walker or cane, to get around. He missed months of school, and his lower spine is permanently damaged.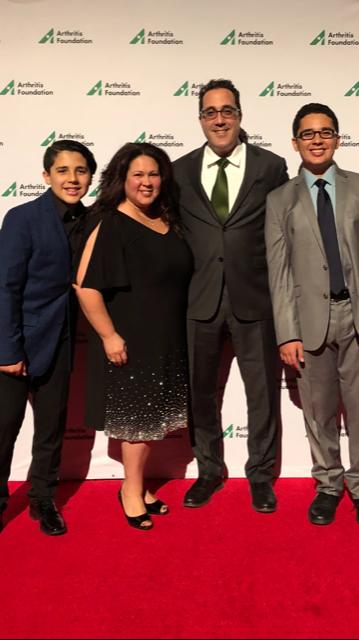 "This is not a childhood," Lorenzo told me. He says some days suck, and he sometimes feels angry. "I really hate feeling like nothing and not doing anything to push myself to be a part of the world," he said. "I'm happier when I do, but sometimes I push myself too much." Lorenzo aspires to be stronger and more content, doing his part to shape a world where everyone has their place. His words for others confronting adversity like he has: "Don't give up. Don't underestimate yourself. Live your best life."
My favorite moments with Lorenzo are when we talk about books or current events. Both of us love libraries and museums. We can talk for hours about those. We bond not just because of what we've gone through in our similar journeys, but just by living and enjoying everyday life like everyone else does.
Like me — like mother, like son — Lorenzo, now 17 and getting ready for college, is unstoppable. We share our story to empower and educate others. We
advocate and fight for everyone impacted by arthritis.
We've participated in the Arthritis Foundation's Advocacy Summit; Lorenzo was teen honoree for the Long Island Jingle Bell Run fundraiser; and he spoke at the Foundation's Commitment for a Cure gala, which raised nearly $1 million to fund arthritis research. I'm among eight New York State Platinum Ambassadors who speak out for our family and all others affected by a chronic illness like JA and other forms of arthritis.
The Arthritis Foundation and our JA Family inspire my strength and resilience — and my son's. If you're embarking on a journey with JA, there are many of us who are on your side and here to help.
_______________________________
March 18, 2020, is World Juvenile Arthritis Day. On this date, we shine a light on JA — raising awareness of a complex group of childhood rheumatic diseases most people don't know about. Besides affecting joints,
juvenile arthritis
can also affect the heart, lungs, eyes, skin and muscles. And it often leads to
emotional, school and social issues
.The Arthritis Foundation makes JA one of our top priorities, supporting life-changing research and resources — and bringing the JA community together. In many places, there are
local support groups to meet other JA families in person
. Or you can connect with other parents and caregivers in the
Live Yes! Online Community
. You can also reach out to a licensed social worker at the Foundation's Helpline by
submitting a question
or calling 844-571-HELP (4357).Be part of the solution by giving a generous gift today.