Conner, Ryan and Brayden Sowa
The Sowa family's journey with arthritis started years ago when Ryan, the middle brother, was diagnosed. Starting at 15 months old, Ryan would get random fevers and unexplained rashes, eventually leading to abdominal and joint pain. There were days he couldn't even walk.
Ryan went through a lot of testing and treatments, resulting in unanswered questions and misdiagnoses. It wasn't until he was a month away from being able to play football that he was finally seen by a rheumatologist. Ryan had looked forward to playing football for many years after watching his older brother play.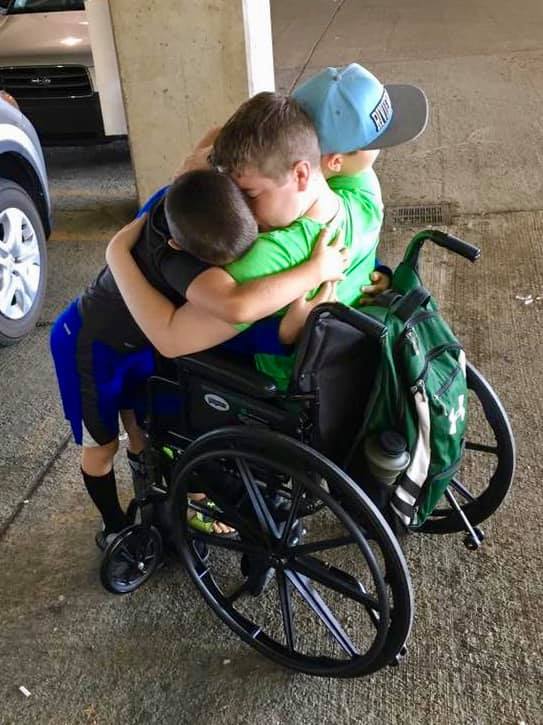 The day he was diagnosed with juvenile idiopathic arthritis (JIA), tears ran down his face. All this little boy heard was, "No contact sports," which meant no football. He didn't care that he had swollen, painful joints, or that the skin on his hands peeled until he bled. He wanted to be out there playing like all the other kids.
Since his diagnosis, Ryan has tried numerous treatments, and eight years later he still hasn't found the right medication to minimize his symptoms. Fortunately, he has found a love for hunting, basketball and soccer, and when he's able to play, he's amazing.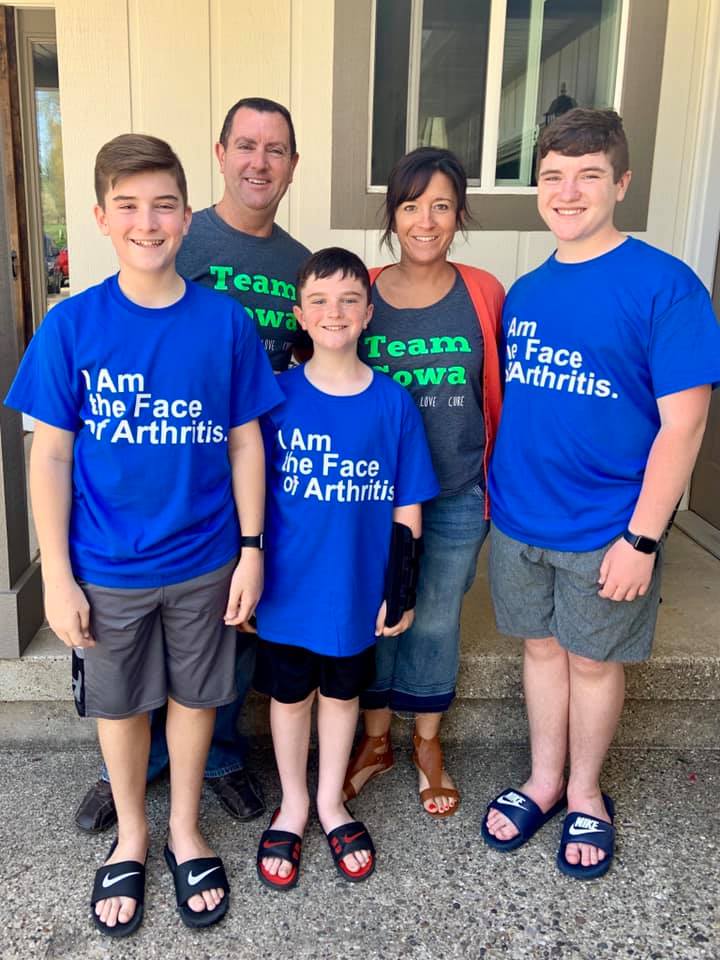 Brayden, the youngest of the three brothers, was just 2 years old when he started having sleepless nights. He would lie there and cry. Many days he would try to run and play, but all he could do was walk with a limp, pushing through the pain while trying to keep up with others. X-rays and blood work led him straight to the rheumatologist. Three months after Ryan's diagnosis, Brayden was diagnosed with childhood arthritis, too.
However, Brayden hasn't let his diagnosis hold him back; he loves playing basketball and baseball, and last summer he played on the All-Star team!
Conner, the oldest of the three boys, was diagnosed a couple of months after Brayden. His joints would dislocate while playing with friends or doing daily activities. Conner's symptoms came on quickly; his knees became weaker and more painful. He was referred to multiple specialists for hyper-mobility and achy joints. It's unheard of for three children in one family to all be diagnosed with JIA, which kept Conner cautiously optimistic until he saw a rheumatologist and got the same diagnosis as his two brothers.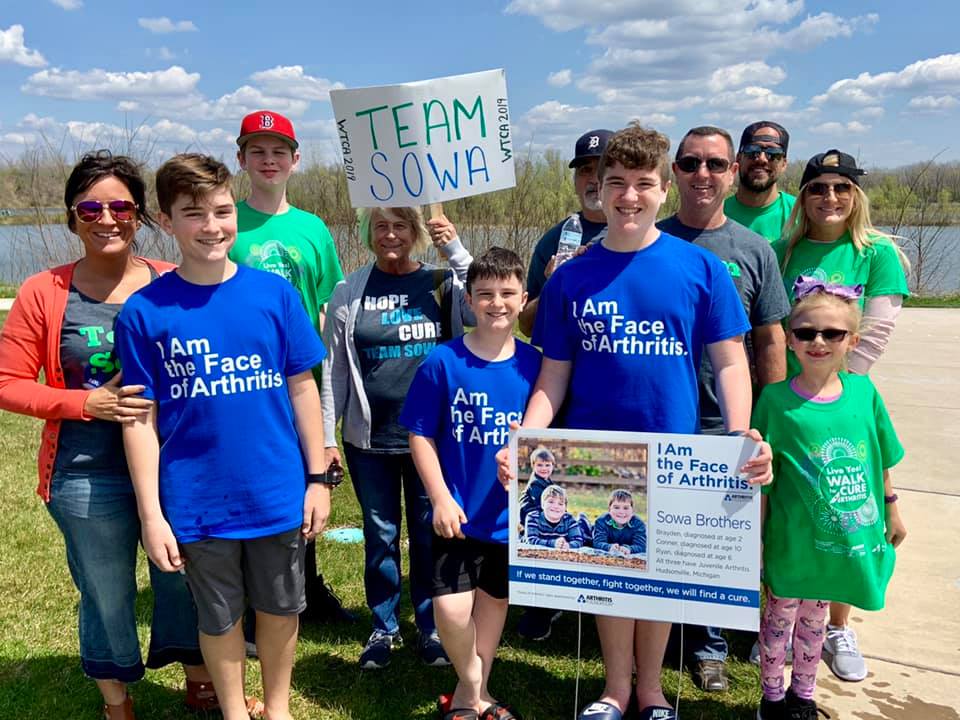 Conner has become a medical mystery to his doctors. He's had unexplained breaks in the cartilage o 
f both knees and ankles, leading to 13 major surgeries, five of them in just over a year. He has been through intensive rehab, learning how to walk again multiple times. Unfortunately, the cartilage and bones in his ankles become so neurotic that orthopedic surgeons in Michigan didn't know what to do.
Fortunately, two summers ago Conner and his family met the world's best orthopedic surgeon in Baltimore. He works with many superstar athletes, and when he heard of Conner's case, he wanted to see him. It was Conner's last option in attempting to save his legs. His ankles were rebuilt with donor cartilage and bone grafts; all the damaged areas were removed and the doctor injected stem cells into both ankles and knees.
Today, all things considered, Conner is doing well, though his knees are also deteriorating. He's due to have more surgeries in the near future. Despite life's challenges, Conner finds time to hunt, plays water polo and is an honor student.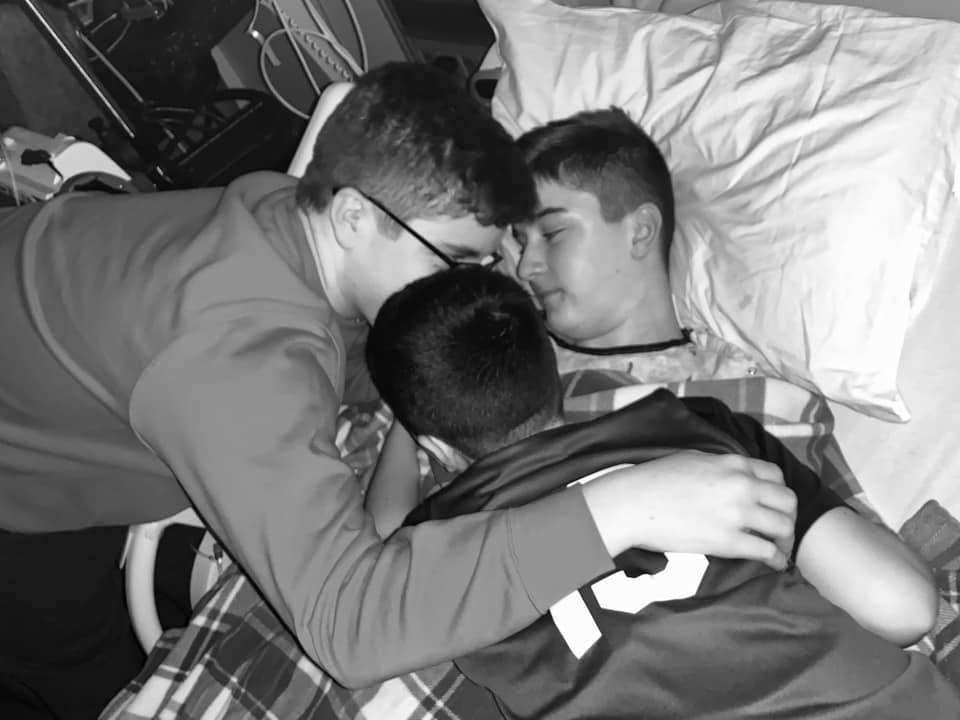 All three boys have tried and failed many expensive medications. Combined, they have more specialists than their parents can count. Currently, the boys receive IV infusions of a biologic every three weeks and take biweekly shots. They all swallow a handful of medications to treat their symptoms and ease the pain. Even with their costly medications, they still suffer. They attend physical therapy and receive joint injections when necessary. They all must have their blood drawn and checked to ensure the medications they are taking don't cause organ damage.
Despite their disease, the boys are tough and still find positives in each day. They all love spending time outdoors and cherish family time.
The boys have donated time for research at the National Institutes of Health, Cincinnati Children's Hospital, and Helen DeVos Children's Hospital. They have raised funds for many years for the Grand Rapids Walk to Cure Arthritis events, spoken at galas and participated in several events the Arthritis Foundation has offered. It will always be Team Sowa's mission to educate and fight for a cure.