2019 Advocacy Summit – A Busy First Day Readies Advocates for a Day on Capitol Hill
Yesterday, more than 300 Advocates from all parts of the United States came together in Washington, DC, filled with fire as they get ready to voice their personal stories to make real and meaningful changes for the arthritis community.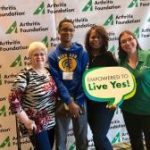 The Arthritis Foundation's 2019 Advocacy Summit kicked off on Monday, March 11, 2019, with an exciting welcome by Foundation President and CEO Ann M. Palmer. The day included motivational and educational breakout sessions where Advocates learned about key legislative asks to support top issues affecting the arthritis community's access to affordable care. They also learned some important tips and tricks for their Capitol Hill meetings and had the opportunity to participate in a
Live Yes!
Connect Group demonstration.
The intensive day of training and information concluded with the Excellence in Advocacy Awards Dinner. Seventeen-year-old Ethan Berkovitz from Solon, Ohio, was awarded the Emerging Leader in Advocacy Award for his continued efforts to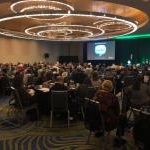 raise awareness of the disease by actively advocating on Capitol Hill and the Ohio Statehouse, as well as being the go-to team captain for the
Walk to Cure Arthritis
and
Jingle Bell Run
. 
Karen Anderson of Santa Barbara, California, was awarded the Edward M. Kennedy Advocacy Leadership Award for her many years of advocacy on behalf of the Arthritis Foundation. Karen is attending her 11th Advocacy Summit and has been a Platinum Ambassador since its inception. She began volunteering for the Arthritis Foundation after her daughter, Kristin, was diagnosed with systemic scleroderma, one of the over 100 forms of arthritis, at the age of 15. Karen's introduction to the Foundation was at a JA Conference, and since then she has been a passionate volunteer at the local, regional and national levels. She has served as Walk to Cure Arthritis chair, advisory board chair, regional public policy and advocacy chair and as a member of the national public policy committee.
Representatives Brad Wenstrup (R-OH) and Raul Ruiz, MD (D-CA), received the Advocacy Leadership Award for fighting to reform step therapy requirements nationwide and break down barriers to care for people with arthritis.
A record 70 Platinum Ambassadors were also recognized for going above and beyond the call of duty by accomplishing a challenging list of advocacy needs, all while raising funds to support our efforts to conquer and cure arthritis.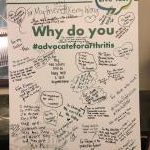 At the end of the day, Advocates were preparing themselves for hundreds of meetings they have in store with members of Congress. During these meetings, legislators will be asked to discuss legislative priorities like reforming burdensome 
step therapy practices
and making
access to vital treatments
easier and more affordable. They will also be urged to
support funding
for arthritis research at the Department of Defense and
to join the Congressional Arthritis Caucus
– a group for members of Congress that serves as a clearinghouse for information regarding arthritis and its devastating toll on our population and economy.
Join us on March 12 at 12:00 p.m. ET to help amplify the impact of our in-person meetings with legislators by participating virtually in our #AdvocateforArthritis social media campaign.
Print out this sign 
and, in one sentence, written large and legibly, tell us why you #AdvocateforArthritis!