There are more than 100 different forms of arthritis, but they all share a common symptom: pain. And while medications can effectively treat it in some cases, they may not eliminate it. Regular physical activity can significantly reduce pain and improve daily functioning.
The Live Yes! Arthritis Network is a special community devoted to helping everyone find the right solutions — so you can live your life to the fullest. This free guide has been put together, based on advice from experts working with the Arthritis Foundation, to help you effectively manage your pain without a prescription. They range from lifestyle measures to techniques, devices and over-the-counter treatments.
Here are a few ways you can better manage your arthritis pain:
Take news and social media fasting days. Instead, take a walk, read a book or catch up with a friend.
Find activities you enjoy. Work out with a friend or join a class to make it fun and easier to stick with.
Try naturally fermented foods, such as yogurt (plain, live-culture varieties), miso and kombucha. Probiotics created by fermentation may improve your digestive system, which can ease pain-inducing inflammation.
To access the free eBook, sign up for updates from our community below. In less than 5 minutes, you can be connected to others who understand what your daily struggle with arthritis is like.
Download the Free eBook Below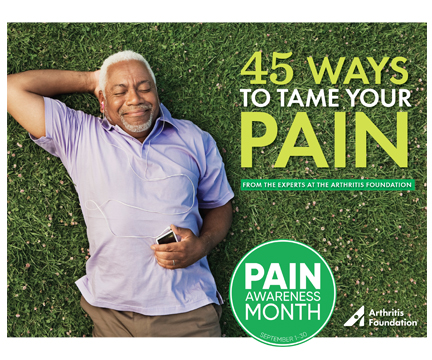 When you download your free eBook, you'll also be signed up for information-packed updates from our community on how to live your best life with arthritis.