Living with arthritis, it's usually the most mundane daily tasks that give you the most frustration. Maybe it's buttoning a shirt, washing dishes, driving your car or climbing stairs. 68% of arthritis patients say they often have to take a break while doing an activity. But, with a little ingenuity, there are less painful ways to do just about anything.
Live Yes! Arthritis is a special community devoted to helping everyone find the right solutions. So you can live your life to the fullest. This free guide has been put together, based on advice from experts working with the Arthritis Foundation, to make these activities easier.
Here are a few examples of tips you'll learn to help you tackle everyday tasks:
Dishwashing gloves aren't just for the dishes in your sink! They not only protect your hands, but they also provide better grip when you're doing other tasks.
A stretching strap, like those used in physical therapy, can help you stretch your legs before you get out of bed in the morning.
Taking a warm shower or bath at the end of the day can help your body relax and get ready for a good night's sleep.
To access the free e-book, sign up for updates from our community below. In less than 5 minutes, you can be connected to others who understand what your daily struggle with arthritis is like.
Download the Free E-Book Below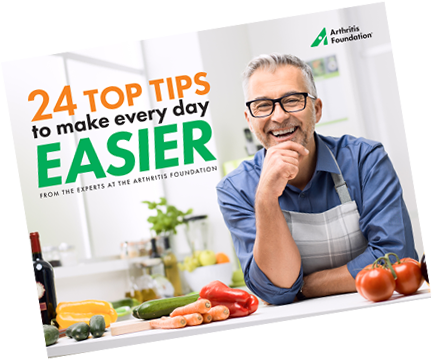 When you download your free e-book, you'll also be signed up for information-packed updates from our community on how to live your best life with arthritis.