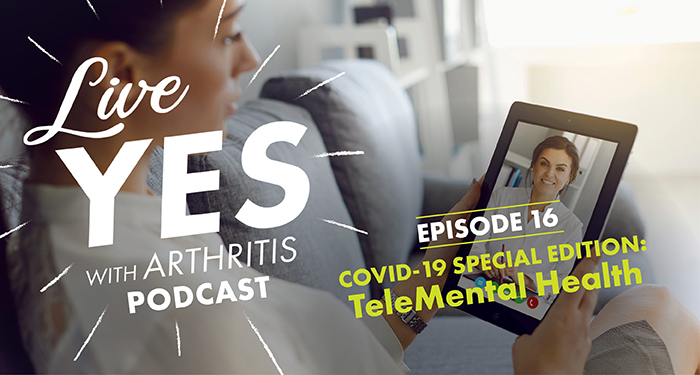 COVID-19 Special Edition
TeleMental Health
Living with arthritis can take a heavy toll on your mental and emotional health. Add in the uncertainty of a pandemic, and that can cause even more stressors affecting your overall well-being. Listen to this episode of the Live Yes! With Arthritis Podcast as Jessica Auslander, who is a licensed clinical mental health counselor who also lives with arthritis, talks about the benefits of telemental health services and what accessing this type of therapy looks like.
Listen Now
COVID-19 Special Edition
COVID-19 & Arthritis: What We Know Now
As many people begin returning to work during this pandemic, those living with arthritis may be feeling an increase in anxiety and stress about the risks of contracting COVID-19. In this episode of the Live Yes! With Arthritis Podcast, Dr. Kevin Winthrop, a leading expert in infectious disease and rheumatology, provides an update on what we now know– and still don't know – about this new coronavirus and its effects on people with arthritis. He shares the latest information about the research, risks, testing and the future of potential vaccines.
Listen Now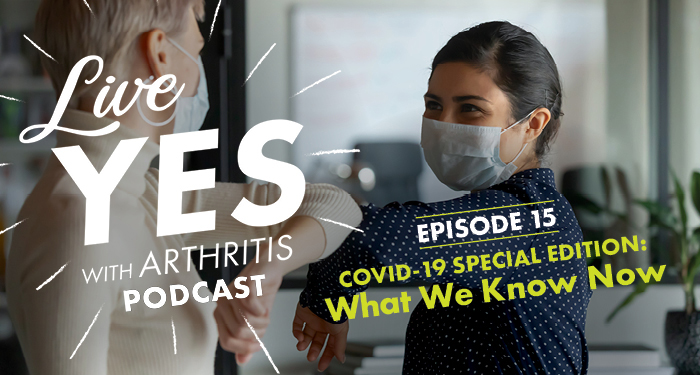 The Arthritis Foundation would like to thank Novartis for its support of the Live Yes! with Arthritis Podcast COVID-19 Special Edition Series.

Podcast Show Notes
Download Show Notes
For more information on podcast episodes. Join our community and download the show notes with a full transcript.
Join Now
Episode 11
Survive & Thrive
For people living with arthritis, the impact of the COVID-19 crisis can amplify feelings of anxiety, depression and isolation. As we are forced to physically distance from the world around us and stay home, it can be challenging to find a new routine or strategies to stay healthy. In this episode, special guests, three-time football champion Rob Gronkowski (aka "Gronk") and TV personality Matt Iseman get up close and personal to share what they're doing to Survive and Thrive: Together in Isolation.
Listen Now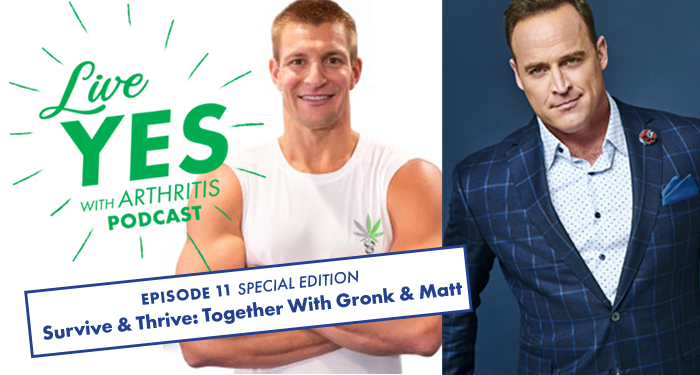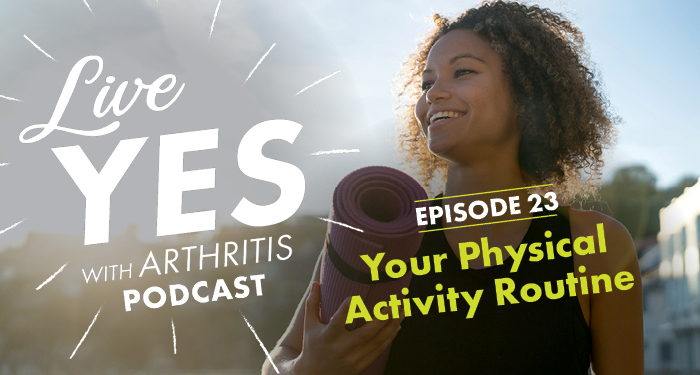 Your Physical Activity Routine
Making physical activity part of your routine can be challenging — and perhaps even more difficult during the pandemic. In this episode, we talk about healthy ways to easily integrate movement into your everyday activities. Learn how to get motivated, as well as what to look for if you're considering a personal trainer or a gym membership.
Listen Now
Episode 24
Food as Medicine
Eating a healthy diet is a key to managing arthritis, but time and budget constraints can make it difficult to stay on track. Get shopping, cooking and preparation tips to maximize powerhouse foods for any budget, as well as tips on how to use food as a tool to help manage your arthritis.
Listen Now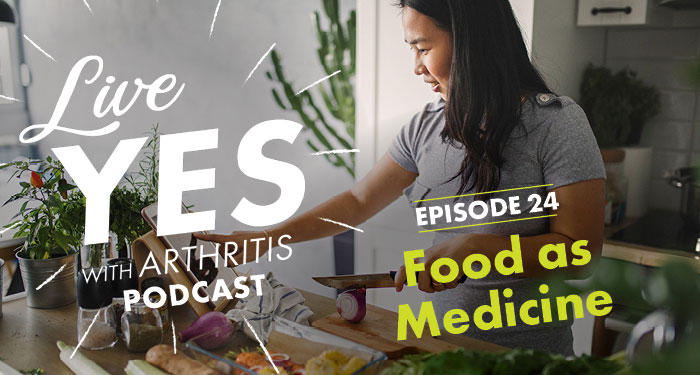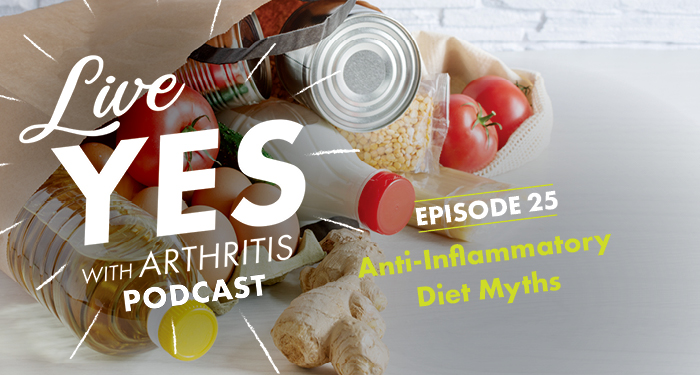 Episode 25
Anti-Inflammatory Diet Myths & Facts
With so much information about what to eat for arthritis, it can get confusing – quick. Learn the truth about common arthritis diet myths as well as proven healthy eating tips from registered dietitian, including how to tailor a diet for your individual needs.
Listen Now
Episode 26
Mind Over Stress
Ever wondered why your arthritis symptoms seem worse when you're experiencing a lot of stress? In this episode, we explore the stress-arthritis connection, including how chronic stress contributes to pain, inflammation and decreased immunity. We'll also discuss proven strategies to help reduce stress and manage arthritis symptoms so you can live your best life and thrive mentally and physically.
Listen Now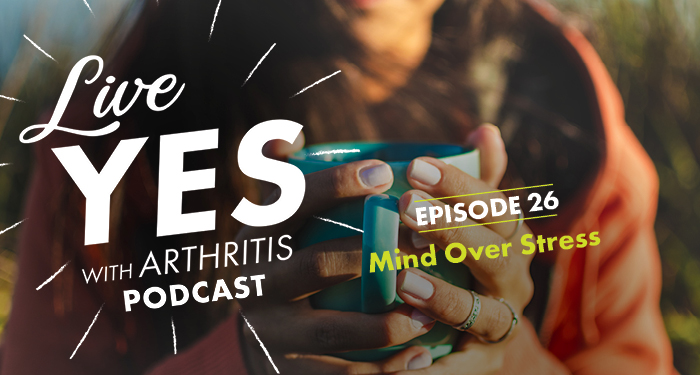 We want to hear from you
Do you have an idea for a topic you'd like to hear discussed on the podcast? Do you have a question about an episode or feedback you'd like to share. We'd love to hear from you.