Get Your JA Power Pack
Understanding juvenile arthritis and other childhood rheumatic diseases can be difficult, but the Arthritis Foundation JA Power Pack can help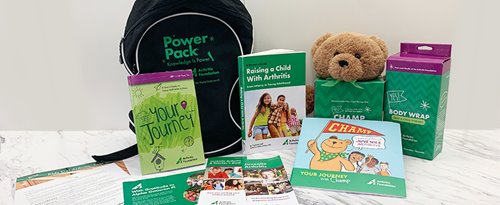 A diagnosis of juvenile arthritis and other childhood rheumatic diseases can turn life upside down and make you feel powerless. You may not know what to expect, what treatment options are available or what to do. We are boldly leading the fight against JA and providing you with the tools to battle arthritis for your child and find your own personal victories.
What's Included?

A Parent's Guide: Raising a Child With Arthritis
Learn how to say Yes to going, doing and just being a kid with this family-focused guide that teaches you more about juvenile arthritis, treatment options and life-changing medications for your child.
Informational Brochures: Juvenile Arthritis and A Teacher's Guide
Help your child meet the unique needs and challenges of living with JA by educating teachers and school personnel on how to positively handle child-specific issues, such as sports, after-school activities and school attendance.
Hot or Cold Treatment for Your Child or Teen
Choice of our "Champ" fuzzy bear (child/preteen) or a wrap (teens) to soothe aching joints.
Book for Your Child or Teen
(Child) Your Journey With Champ: Learning about Juvenile Arthritis to improve communication and better understand diagnosis. Parents, download these coloring pages for your kids too!
(Preteen/Teen) Your Journey: A Teen's Guide to Living Well with Arthritis: Better understand the phases of transition and learn about managing emotions.
What's Available?

Child Pack (recommended for ages 0-8)
Pre-Teen Pack (recommended for ages 9-12)
Teen Pack (recommended for ages 13-18)
NOTICE: Thank you for your interest in the JA Power Pack program. We are in the process of restocking packs for all ages. Please submit your request today and you will receive notice as soon as packs are restocked and ready to be shipped. If you have any questions, please email

[email protected]

.
Connect with Us
Get the latest news and updates on our Juvenile Arthritis resources and events. Sign up by providing your information below.