Cold Crunchy Soba Salad With Chicken and Snap Peas
Try this cold soba noodle salad with healthy veggies and a delicious dressing for the perfect lunch or light dinner.
30 Min
prep and cook
956 Cal
per serving
4 Serv
lunch servings
Overview
Choosing a wheat-based pasta will give you more fiber and nutrients with fewer calories and refined carbohydrates, which can promote inflammation. Though the ingredient list for this soba noodle salad seems long, this slightly spicy, healthy and lunchbox-friendly recipe comes together quickly. It also lasts two to three days in the fridge. For a meat-free version, replace the chicken with chopped tofu.
To make this recipe you will need a sharp knife, large pot, large mixing bowl, tongs or salad spoons.
Nutrition information (per serving)*: Total Fat (56.8g); Carbohydrates (79g); Sodium (862mg); Sugar (6g); Fiber (5g); Cholesterol (62mg); Protein (44g)
Ingredients
For the salad:
1 (8.8-ounce or similar) package soba noodles
2 cups shredded chicken (use leftovers, or a store-bought rotisserie chicken)
2 cups snap peas, sliced
2 scallions (green and white parts), sliced
1/2 red bell pepper, cut into thin 1-inch strips
2 cups roasted (preferably unsalted) cashews
1/4 cup fresh cilantro, roughly chopped (optional)
For the sesame dressing:
1/4 cup sesame tahini, well-stirred
2 Tbsp. dark sesame oil
1/2 cup boiling water
1 Tbsp. ginger, finely grated
2 Tbsp. low-sodium soy sauce
2 Tbsp. rice vinegar
1 tsp. sriracha (or similar Asian chili paste), or to taste (optional)
Directions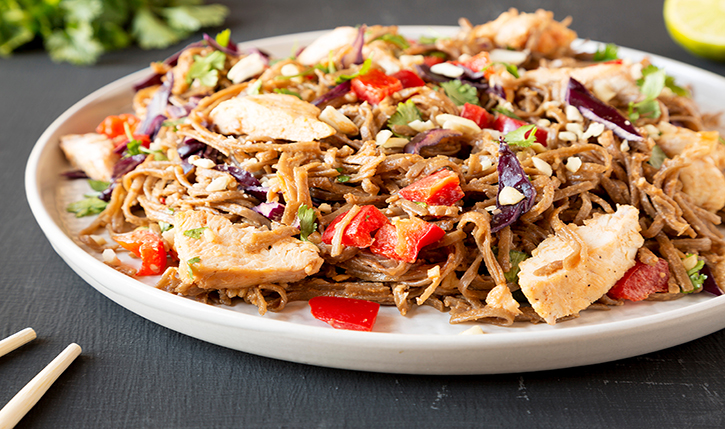 Cook the soba noodles according to package instructions.
Meanwhile, stir the remaining salad ingredients together in a large mixing bowl.
Whisk the dressing ingredients together until blended.
When the noodles are done, rinse them with cold water until they've cooled completely. Drain, then add to the bowl with the chicken and vegetables.
Drizzle the dressing over the noodles, then use tongs or two spoons to gently combine all the ingredients. Serve cold or at room temperature.
Ingredient Tips & Benefits
Look for soba noodles, sriracha, rice vinegar and pre-grated ginger in the Asian food aisle of a large grocery store or try a specialty foods store. Tahini is typically found with nut butters.

Don't be afraid of ingredients like sriracha and tahini! They're staples of Asian and Mediterranean cuisine, respectively, and have added health benefits. The chili in sriracha contains capsaicinoids, which have anti-inflammatory properties. Tahini is made from sesame seeds, which support bones and contain a compound called sesamin, which may have anti-inflammatory affects as well.

Whole grain noodles and breads are better for you than refined carbs like white bread and pastas. The simple structure of refined carbs causes them to break down in the body rapidly and turn into sugar more quickly, which can contribute to inflammation.
*Disclaimer: All nutritional information provided is approximate and based on USDA measurements. Actual amounts may vary based on exact ingredients used, how they are prepared and serving size.
Stay in the Know. Live in the Yes.
Get involved with the arthritis community. Tell us a little about yourself and, based on your interests, you'll receive emails packed with the latest information and resources to live your best life and connect with others.