Partners 4 Patients with Arthritis
The Arthritis Foundation recently launched an initiative to build stronger relationships and increase recognition of our most engaged practices. 

The Arthritis Foundation has launched a new program to build stronger relationships and increase recognition of our most engaged health care provider practices. The new Arthritis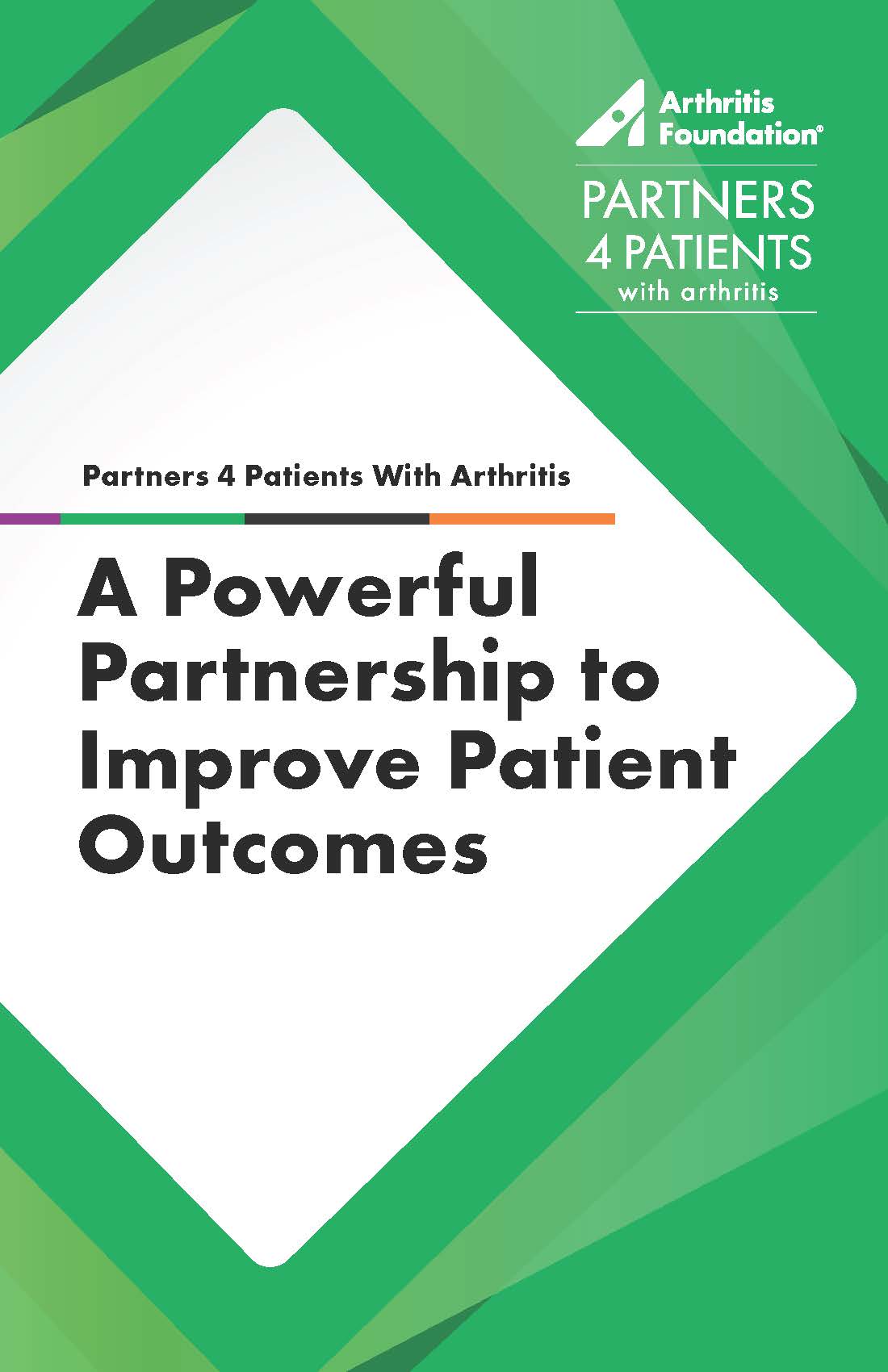 Foundation Partners 4 Patients With Arthritis program provides a way for us to work hand in hand to achieve our common goals: improving lives and outcomes for patients with arthritis.
Through the Partners 4 Patients With Arthritis program, the Arthritis Foundation will commit to providing up-to-date resources and materials for you and your patients free of charge, to keeping your practice updated on an ongoing basis, and to recognizing your practice on arthritis.org and in other ways. In return, Partners 4 Patients With Arthritis will commit to distributing Arthritis Foundation materials and to referring your patients to the Arthritis Foundation for connections and support.
To see a list of current practices with this gold standard Partners 4 Patients with Arthritis designation, click here.
Practices
Alabama
Montgomery, AL
Jackson Hospital Rheumatology
Ximena Ruiz, MD
University of Alabama at Birmingham Medicine Multispecialty Clinic at Baptist Medical Center South
Vestavia, AL
Precision Sports Medicine & Orthopedics
Arkansas
Little Rock, AR
Arkansas Children's Hospital Rheumatology Clinic
Chi Arthritis & Rheumatology Associates
Jonesboro, AR
Therapy Providers Of Arkansas
Fayetteville, AR
Washington Regional Rheumatology Clinic
Arizona
Gilbert, AZ
Bonhoeffer Rheumatology Institute, LLC
Phoenix, AZ
Foothills Sports Medicine Physical Therapy
Glendale, AZ
Tucson, AZ
Posadas Rheumatology and Bone Health
California
Sherman Oaks CA
Los Angeles CA
Soha Dolatabadi, MD
Daniel Furst, MD
Christine Lee, MD
Steven Sampson, DO
West Hills CA
Covina CA
Beverly Hills CA
Orange CA
Joo-Hyung Lee MD & Thomas R. Powell MD
San Bernardino CA
Loma Linda University Children's Hospital Rheumatology Team Center
Sacramento CA
Sacramento Rheumatology Consultants
Murrieta CA
Oakland CA
Benioff Children's Hospital Pediatric Rheumatology
Fremont CA
Sabiha Rasheed, MD
TriCity Rheumatology
Alto CA
Stanford Children's Health Pediatric Rheumatology Palo
San Francisco CA
University of California San Francisco Pediatric Rheumatology
Bakersfield CA
Jim C. Kim MD. Inc
Rheumatology Services Medical Group
San Luis Obispo, CA
Rheumatology Services Medical Group SLO
Colorado
Fruita CO
Arthritis Center Of Western Colorado
Aurora CO
Colorado Injury Treatment Center
Steps 2 Hope Wellness Center
Englewood CO
Denver CO
Connecticut
Hartford CT
Connecticut Children's Medical Center
Haven CT
New Haven Rheumatology New
District of Columbia
Washington DC
NovaCare Physical Therapy
Florida
Boca Raton FL
Rheumatology Associates of South Florida
Bradenton FL
Intercoastal Medical Group
Delray Beach FL
South Palm Orthopedics
The Hirsh Center
Gainesville FL
Jacksonville FL
UF Health Pediatric Multispecialty Center
Jupiter FL
Kissimmee FL
Lake Worth FL
Margate FL
Arthritis and Rheumatology Center of South Florida
Miami FL
Miami Institute for Joint Reconstruction
The Center for Arthritis and Rheumatic Diseases
Miami Beach FL
Vanguard Rheumatology Partners-The Center for Osteoporosis
Orlando FL
Palm Harbor FL
St Petersburg FL
Johns Hopkins All Children's Hospital
Trinity FL
West Palm Beach FL
Arthritis & Rheumatology Associates of Palm Beach Inc
Winter Park FL
Georgia
Atlanta, GA
Arthritis and Rheumatology of Georgia
Physio Select
Piedmont Rheumatology Consultants PC
Smyrna GA
Wellstar Medical Group Family Medicine
WellStar Medical Group Rheumatology
Marietta GA
WellStar Medical Group Internal Medicine Associates of Marietta
Iowa
Urbandale IA
Iowa Arthritis & Osteoporosis Center PC
Cedar Rapids IA
Physicians Clinic of Iowa - PCI
Idaho
Boise ID
St. Luke's Rehab Hospital
Meridian ID
Indiana
Mishawaka, In
Saint Joseph Health System, Mishawaka Campus, Pediatric Therapy
Kansas
Lenexa KS
Wichita KS
Arthritis & Rheumatology Clinics Of Kansas
Kentucky
Lexington KY
Arthritis Center of Lexington
Green KY
Graves Gilbert Clinic Rheumatology - Dr. Fraser Bowling
Graves Gilbert Clinic Rheumatology - Dr. Pansuria Bowling
Louisville KY
Edgewood KY
OrthoCincy Orthopaedics & Sports Medicine
Louisville KY
Fort Mitchell KY
Tri State Arthritis & Rheumatology
Michigan
Troy MI
Southfield MI
Michigan Orthopaedic Surgeons
Missouri
Kansas City MO
Saint Louis MO
Children's Mercy Hospital
Mandala Medical Services
Orthopedic Associates Inc
Washington University Rheumatology
West County Rheumatology
Cardinal Glennon Children's Hospital
North Carolina
Charlotte NC
Arthritis and Osteoporosis Consultants of the Carolinas
Atrium Health Rheumatology
OrthoCarolina
The Physical Therapy Center
Lumberton NC
Chapel Hill NC
Cary NC
Winston Salem NC
Wake Forest Brener Children's Hospital
North Dakota
Bismarck, ND
Fargo, ND
Sanford Pediatric Rheumatology
Grand Forks, ND
Nebraska
Lincoln, NE
Arthritis Center of Nebraska
New Jersey
Hackensack, NJ
Hackensack Meridian Pediatric Rheumatology
Ocean, NJ
Summit, NJ
Institute for Rheumatic & Autoimmune Disease
New York
Albany, NY
Brooklyn, NY
New York, NY
Hospital for Special Surgery
Sutton Place Physical Therapy
Ohio
Blue Ash, OH
Canton, OH
Cincinnati, OH
Cincinnati Children's Hospital Medical Center Division of Rheumatology
Riverhills Neuroscience
Cleveland, OH
Cleveland Clinic - Orthopaedic & Rheumatologic Institute
Cleveland Clinic Children's - Pediatric Rheumatology
MetroHealth - Pediatric Rheumatology
MetroHealth - Rheumatology
Columbus, OH
Columbus Arthritis Center
NovaCare Rehabilitation
Wesley Ridge
Orthopedic One
Concord, OH
Dayton, OH
Orthopedic Associates of Southwest Ohio
Mayfield, OH
Painesville, OH
Toledo, OH
University of Toledo Rheumatology
Westerville, OH
Oklahoma
Oklahoma City, OK
OU Children's Pediatric Rheumatology
Rheumatology Associates of Oklahoma
Schnitz Rheumatology ]
Tulsa, OK
Tulsa Bone And Joint Associates Rheumatology
Oregon
Eugene, OR
Portland, OR
NW RHEUMATOLOGY ASSOC PC
OHSU Portland OR Randall Children's Rheumatology
Pennsylvania
Bryn Mawr, PA
Bryn Mawr Medical Specialists - Rheumatology
Philadelphia, PA
Pittsburgh, PA
Magee Bone and Joint Center
Wexford, PA
Lupus Center of Excellence -Allegheny Health Network
South Carolina
Greenville, SC
Corey Ephrussi, DO
Piedmont Arthritis
Tennessee
Cordova, TN
Rheumatology & Dermatology Associates
Jackson, TN
Knoxville, TN
East Tennessee Children's Hospital
Tennessee Valley Orthopedics
University of Tennessee Medical Center
Murfreesboro, TN
Murfreesboro Medical Clinic
Nashville, TN
Vanderbilt Children's Hospital
Texas
Allen, TX
Arlington, TX
Austin, TX
Austin Ortho + Bio
Texas Physical Therapy Specialists
Burleson, TX
Dr. Rosy Rajbhandary
Lone Star Orthopaedic & Spine Specialists
Carrollton, TX
Arthritis Care Center
Dallas Rheumatology
Colleyville, TX
Heritage Rheumatology & Arthritis Care
Dallas, TX
Giovanni and Joanna Geslani, DO
Adjust Chiropractic
Dallas VAMC
Dallas Arthritis Center
David Minna, M.D.
Yijun Fan, MD
mPower Physical Therapy
Scott Zashin MD
Fort Worth, TX
Premier Physician Group
Privia Medical Group North Texas
Houston, TX
UT Pediatric Rheumatology
Rheumatology Center of Houston
Katy, TX
Houston Rheumatology & Arthritis Specialists
McKinney, TX
Texoma Arthritis Clinic PA
Pearland, TX
Dynamic Arthritis Care Clinic, PLLC
Plano, TX
Red Oak, TX
San Antonio, TX
Rheumatology Associates of South Texas
Texas Physical Therapy Specialists
Sugar Land, TX
Namieta M Janssen, MD Rheumatology
Simon Spine
Ho Bing Oei MD Irving TX Hogan Chiropractic
Utah
Murray, UT
The Orthopedic Specialty Hospital
Saint George, UT
Dixie Regional Medical Center
River Road Clinic Rheumatology
Salt Lake City, UT
Cottonwood Clinic
Intermountain Salt Lake Clinic
Primary Children's Hospital
Salt Lake Reg Medical Center
Virginia
Chesapeake, VA
The Center for Arthritis and Rheumatic Diseases PC
Fairfax, VA
Pediatric Specialists of Virginia
Norfolk, VA
Children's Hospital Of The King's Daughters
Sentara Rheumatology Specialists
Richmond, VA
Children's Hospital of Richmond
VCU Health System
OrthoVirginia
Salem, VA
Salem Veteran Affairs Medical Center
Virginia Beach, VA
Rejuvinix Non -Surgical Therapy
Williamsburg, VA
Arthritis & Rheumatic Diseases
Washington
Bellingham, WA
Bellingham Arthritis & Rheumatology Center
Seattle, WA
Movement Systems Physical Therapy
Seattle Rheumatology Associates
The Polyclinic
University of Washington Division of Rheumatology
Spokane, WA
Wisconsin
Green Bay, WI
Orthopedic & Sports Medicine Specialists
Marshfield, WI
Marshfield Clinic Pediatric Rheumatology
West Virginia
Beckley, WV
Rheumatology and Pulmonary Clinic
Huntington, WV
Huntington Internal Medicine Group
Scott Orthopedic Center Inc
South Charleston, WV
Mountain State Medicine and Rheumatology, PLLC
Rheumatology Group, Pllc
Health Care Providers E-newsletter
Stay on top of the latest Arthritis Foundation news in our monthly HCP e-newsletter, the Expert Minute. In just 5 minutes or less, get exclusive updates on topics most relevant to you.