New Arthritis Foundation Leader Talks About the Journey Ahead

Taking charge as Arthritis Foundation president & CEO, Steven Taylor vows to focus on pathways to finding a cure and improving quality of life.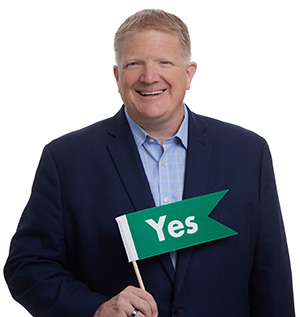 February 1, 2022
Today, as I begin my tenure as President and CEO of the Arthritis Foundation, I want to take a moment to share some of my thoughts as I step into this important role. It is a tremendous honor and privilege to be leading the Arthritis Foundation through such an exciting time. Our bold scientific agenda and focus on improving quality of life has the potential to positively impact the lives of the nearly 60 million Americans diagnosed with arthritis.
Every day, our mission is to reduce the pain and improve the lives of arthritis patients and caregivers. Together, with our passionate volunteers — as well as health care professionals, researchers, policymakers, partner organizations, loyal supporters and dedicated staff — the Arthritis Foundation is making that happen.
Moving forward, I am steadfastly committed to continuing these essential partnerships because I believe that together we can best expand our movement, break down access barriers, reach more people and empower patients to live their best life. Under my leadership, the Arthritis Foundation will continue to be a meaningful touchpoint and resource to help people with arthritis — and those who love them.
Over the past year, I had the unique chance to work alongside my predecessor, Ann Palmer. Ann's strong legacy is predominantly defined by her efforts to build community among arthritis patients and invest in scientific research. She skillfully guided the organization through the pandemic, leading us to thrive during trying times. I look forward to fortifying Ann's legacy as we embark on this next chapter in the organization's history.
One of my priorities this past year, as Executive VP of mission and strategic initiatives at the Arthritis Foundation, was to lead the development of our three-year strategic mission plan. As President and CEO, I am excited to now lead the charge of rolling this plan out across the organization.
We have clear pathways to finding a cure and improving our constituents' quality of life through our commitment to advocacy, educational programming and scientific advancements. Our plan's priorities were shaped around patient-reported data from our ongoing Live Yes! INSIGHTS study. I'm proud of the plan we've developed and look forward to working with our community of patients and partners to bring it to life.
Thank you for the opportunity to serve the arthritis community in my new role. I am confident we are headed in the right direction. And I know that, with the continued enthusiasm and support of everyone in our community, we will achieve our goals to conquer arthritis and chronic pain.
This is our fight together — and our fight to win!
With much appreciation,

Steven Taylor
Arthritis Foundation President & CEO