Coronavirus and Arthritis: What You Need to Know
Please check back regularly. We will stay in touch with the top experts and give you updates on this quick moving story, with a focus on what people with suppressed immune systems need to know.
Updated April 2
Basics
Q: What's a coronavirus?
A: Coronaviruses are a big family of viruses that can cause everything from colds to severe pneumonia. Some target your nose, so you get the sniffles and a scratchy throat. Others, like the new coronavirus that causes COVID-19, attach to cells in your lungs.
Q: How does it spread?
A:
Like colds and seasonal flu, the new coronavirus spreads through the droplets expelled when a person coughs or sneezes. People can also pick up the virus when they touch a contaminated surface like a countertop, handrail or doorknob and then touch their eyes, nose or mouth.
It's unlikely this virus can survive on hard surfaces very long, though it's not clear how long, says Timothy Brewer, MD, a professor of epidemiology at the University of California, Los Angeles. Preliminary research is showing it's a matter of days, not hours. That is why it's so important to wash hands frequently and thoroughly and not touch your face, as well as keep surfaces clean. Isopropyl alcohol, hydrogen peroxide and bleach can all effectively kill surface viruses in about a minute. Soap and water as well as disinfectants like Lysol also do the trick, though not quite as well.
CDC provides guidance for
how to disinfect surfaces
.
Q: How contagious is it?
A: The virus is spread in a similar way to the seasonal flu, but emerging research suggests that it may be more contagious than the flu. Scientists describe transmissibility with something called the basic reproduction number, or R0. The flu's R0 is about 1.2, meaning an average person passes the flu on to a little more than one person. (The math gets complicated).

But the data that goes into that calculation keeps changing, and there are various ways to do the calculation, which means right now there is no one agreed upon answer. However, a February 2020 review in the Journal of Travel Medicine found that overall, most scientists' estimates are hovering roughly around a 3 R0, with some being higher and some lower. That means one person can infect three others, a transmission rate far higher than the seasonal flu, with significant consequences. The number of people infected grows exponentially. The 3 R0 will likely change as more reliable data is gathered, and lead to greater consensus.

Until then, best advice is still thorough and frequent handwashing and social distancing. See below for more guidance on infection prevention.
Q: How deadly is the virus?
A: It's hard to say. Estimates are likely to change as more mild cases are detected or reported. When people with mild disease are undercounted, the virus can look more lethal than it is. As of March 1, 2020, there were 87,508 confirmed cases worldwide and 2,990 deaths, according to The Center for Systems Science and Engineering at Johns Hopkins University, which is tracking the virus closely. In comparison, the Centers for Disease Control and Prevention (CDC) estimates that in the U.S. alone, 18,000 to 46,000 people have died of seasonal flu since October 2019.

Q: Who's at risk for serious COVID illness or complications?
A:
According to the
CDC website
, "Older adults and people who have severe chronic medical conditions like heart, lung or kidney disease seem to be at higher risk for more serious COVID-19 illness. Early data suggest older people are twice as likely to have serious COVID-19 illness."
The CDC website goes on to say: "If you are at increased risk for COVID-19 complications due to age or because you have a severe underlying medical condition, it is especially important for you to take actions to reduce your risk of exposure." It recommends, if COVID-19 is spreading in your community, taking extra measures to put distance between yourself and other people, including staying home as much as possible and avoiding crowds, especially in poorly ventilated spaces.
We asked Michael George, MD, a rheumatologist and epidemiologist who studies infections in patients with autoimmune disease, who should follow this guidance. He says it particularly applies to those with more severe disease or who have been hospitalized in the past with a respiratory infection or have interstitial lung disease, COPD or asthma, for example. Those with more mild disease may want to ask their doctor for guidance.
People with osteoarthritis, or non-autoimmune types of arthritis, who have risk factors, such as age (over 60 years) or severe underlying medical condition should follow the CDC guidance on crowd avoidance, too. And, Dr. George adds, "everyone should follow the general precautions," such as handwashing, not touching your face, eyes, nose or mouth
Infection Risk and Prevention
Q: Am I more likely to catch COVID-19 if I have autoimmune or inflammatory arthritis?
A: We don't know yet about this virus, says Kevin Winthrop, MD, a specialist in infectious disease epidemiology at OHSU School of Medicine in Portland, Oregon. However, in general, people with autoimmune or inflammatory arthritis who have high disease activity seem to have an increased risk of infections due to greater immune dysregulation.

For COVID-19 and seasonal flu, we do know that older adults and those with pre-existing health problems – especially cardiovascular disease, diabetes and high blood pressure – and those who have been hospitalized before with infections are most at risk.

The experts emphasize that one of the main concerns for people with autoimmune disease who contract seasonal flu or COVID-19 is secondary bacterial infection, or complications, that may follow the original viral infection.

For these reasons, it's important to call your doctor right away if you think you've been exposed or are experiencing flu-like symptoms. Be sure to state that you are taking immune-suppressing drugs. (Read more below on immunosuppressant drugs and risk.)
Q: How can I protect myself?
A:
Don't worry or panic but do take steps to protect yourself and others. Here's how:
Avoid crowded places. The CDC suggests that older people – over 60 years old – and those with severe chronic medical conditions avoid going to places where there are a lot of people. This means avoiding movie theaters, busy shopping malls, travel on planes, public transportation and church. If your workplace or commute involve passing through or being with lots of people, ask about telecommuting, if possible.
Wash your hands. We can't stress this enough. Wet your hands with clean, running water, then lather them with soap. Scrub both sides, between your fingers and under your nails for at least 20 seconds – about as long as it takes to sing the alphabet song twice. Be thorough, and follow the WHO technique.
Use hand sanitizers on the go. Don't rely on them, but when soap and water aren't an option, use a hand sanitizer that contains at least 60% alcohol. Keep a bottle in the car, at your desk and in your purse or pocket.
Disinfect surfaces regularly. Clean high-touch surfaces like countertops, light switches, doorknobs and the inside of your car with disinfectant. Use a mixture of 60% isopropyl alcohol and 40% water to kill germs on high-touch objects and surfaces, like your cell phone, computer keyboard, remote, doorknobs and faucets. Wash eyeglasses with soap and warm water every day.
Cover your mouth and nose when you cough. Throw away all your used tissues immediately.
Practice your fist bump. Try to forgo handshakes and hugs for the time being.
Skip the mask. Standard surgical face masks won't screen out viruses in healthy people, but if you're sick, a mask can help block droplets from sneezing or coughing so you won't infect others. The U.S. Surgeon General has asked healthy people to not stock up on masks because the priority is that health care providers have them and they may experience a shortage if the general public buys them up.
Call ahead. If you have cold or flu symptoms call your doctor instead of rushing to urgent care or the emergency department. If you don't have a doctor and are sick enough to need emergency care, call ahead and let the hospital know you're on the way.
Keep up to date with reliable sources. Check back with us regularly for updates, and follow major news outlets and health authorities, such as the CDC, WHO, and The New York Times.
Q: Can I catch COVID-19 from my pet?
A: The World Health Organization (WHO) says there's no evidence that cats and dogs can catch or spread the coronavirus to people. There's a lot of misinformation about how the virus started, with some people suggesting it was made in a lab. That's not true. Based on past coronavirus outbreaks and the virus's genome, experts say it appears to have started in a wild animal, probably a bat or pangolin.
Medications
Q: Am I at extra risk because I take immune suppressing medications?
A: We don't know whether taking immunosuppressant drugs further increases the risk of catching COVID-19. But Michael George, MD, a rheumatologist and assistant professor of medicine and epidemiology at the University of Pennsylvania, in Philadelphia, says that in relation to viruses in general, limited data suggest some of the drugs used to treat autoimmune and inflammatory types of arthritis – biologics (for example, Remicade, Enbrel and Cimzia), JAK-inhibitors (Xeljanz, Olumiant and Rinvoq), and corticosteroids (prednisone) – may contribute to higher risk or severity of viral infection. A recent large study of people with cardiovascular disease found that hydroxychloroquine (Plaquenil) does not increase the risk of infection and methotrexate increases the risk of infection only slightly.

The concern with immune suppression is that the virus could replicate more freely and cause more severe or extensive disease, says Dr. Winthrop. For this reason, it's important if you are taking these medications to contact your doctor right away if you think you've been exposed or are experiencing flu-like symptoms. (See question addressing symptoms.) Be sure to state that you are taking immune-suppressing drugs.

Experts warn patients not to stop or change dosage of medication without calling their doctors.
Q: I take hydroxychloroquine (Plaquenil) and heard about a shortage. What should I do if I can't get a refill?
A:
Here's what you can do:
If you are due for a refill, don't wait until the last minute.
If your refill is for 30 days, ask your doctor for a 90-day supply to give you a cushion in case it's difficult to find later.
If your pharmacy can't fill a full 90-day prescription due to short supply, see if you can take what's available now and be contacted as soon as new stock comes in.
Be sure to tell your pharmacist the reason you are taking the medication. Some states give pharmacists the discretion to decide which prescriptions to prioritize, if, for example, stock is low.
If the drug is out of stock, ask the pharmacist for help locating a refill. Another location in the same chain, a nearby hospital pharmacy or a compounding pharmacy may be able to fill it.
If you still can't refill your prescription, ask your doctor for guidance.
Q: Should I continue to get my arthritis treatment at an infusion center?
A: The goal is to continue to get your biologic infusion on schedule, as long as you don't have a concurrent infection. You don't want a disease flare, says Andrew J. Laster, MD, a rheumatologist in Charlotte, North Carolina. Call ahead to ask about new processes that enhance safety. At his clinic, staff screens patients with a questionnaire and take their temperature before they enter. Patients are asked about recent travel to China, Italy, Iran or other countries with high infection rates and if they currently have fever and symptoms of a respiratory infection such as cough and/or shortness of breath or if they have experienced these symptoms within the last 14 days. Dr. Laster says that an extra safety feature at his clinic is the distance between infusion chairs. It's best for patients to be seated at least 6 feet apart. Staff should sanitize chairs between patients. Consider, too, other safety issues related to getting your infusion. For example, how do you get to the clinic? Are you taking public transportation? If it's crowded, can you find an alternative? But bottom line is that you want to find a way to continue your medication.
Q: I heard NSAIDs can worsen coronavirus? Should I avoid taking that drug?
A: News outlets in the U.S. recently reported that France's health minister recommended against using NSAIDs (such as ibuprofen, naproxen) in those who have coronavirus. The leading U.S. expert in NSAIDs and cardiovascular risk, Daniel Solomon, MD, says there is no clear evidence of adverse effects related to NSAIDs and the coronavirus.

A rheumatologist at Brigham and Women's Hospital in Boston and professor of medicine at Harvard Medical School, Dr. Solomon says that people who usually use NSAIDs with the approval of their doctor likely can continue to take them as needed for aches and pains if using over-the-counter products, or as directed if taking prescription NSAIDs (such as celecoxib, or Celebrex, meloxicam, or Mobic). As always, you should talk to your doctor for guidance appropriate for your specific needs.
He adds that treating early or mild symptoms of any virus, including coronavirus, with acetaminophen (Tylenol) makes sense for people who have no pre-existing conditions that make it unsafe, such as liver disease. Call your doctor to report to report viral symptoms (cough, fever, shortness of breath or diarrhea) for directions on self-treating at home or when to seek further medical care.

Dr. Solomon is a member of the Arthritis Foundation's Medical and Scientific Advisory Committee.
Q: Is it possible that there will be a shortage of DMARDs or biologics used for arthritis?
Currently, some rheumatoid arthritis and lupus patients who use the conventional DMARD, hydroxychloroquine (
Plaquenil
) may have problems getting refills.
Click here
to learn what you can do if you are affected.
Here are summary statements regarding medication supply from the following manufacturers:
Abbvi
e: (
Humira
), (
RINVOQ
)
We are continuing to closely monitor manufacturing and supply chain resources around the world to help ensure our patients continue to receive their medicines. We do not anticipate any disruption to our medicine supply for patients as a result of COVID-19. For more information:
https://www.abbvie.com/coronavirus.html
Amgen
: (
Enbrel
)(
Evenity
) (
Prolia
)
Amgen continues to provide an uninterrupted supply of medicines for patients around the world and we do not currently anticipate a shortage of our medicines due to COVID-19. For more information:
https://www.amgen.com/covid-19/
Bristol Myers Squibb
(
Orencia
)
At this time, we do not anticipate disruptions to the supply of our medicines for patients due to COVID-19. All of our manufacturing sites worldwide are continuing to manufacture medicines for our patients. We continue to diligently monitor our manufacturing and supply facilities across the globe, including in areas that have seen a greater impact. For more information:
https://www.bms.com/about-us/responsibility/coronavirus-updates.html
Genentech
: (
Actemra
), (
Rituxan
)
Though we are not currently experiencing supply issues for our portfolio of medicines related to the global COVID-19 pandemic, we are closely monitoring and responding to the evolving situation. We have robust business continuity and mitigation strategies in place and we're working closely with health authorities; federal, state and local governments; and distribution partners to manage inventory levels equitably and best meet the needs of patients. For more information:
​​​​​​​
https://www.gene.com/covid19
GlaxoSmithKline
(
Benlysta
)
We have taken a number of measures to support supply of our products, including: prioritizing medically critical products; building capacity to respond faster to unpredictable demand in some of our key consumer healthcare products; and working with logistics service providers to find alternative distribution routes. We are experiencing some delays with distribution and delivery of our products to customers as countries around the world introduce different virus containment measures, such as border closures and flight suspensions. Our focus is to avoid or minimize any potential delivery delays or disruptions, closely monitor what is happening and keep our customers informed. For more information: ​​​​
https://www.gsk.com/en-gb/media/resource-centre/our-contribution-to-the-fight-against-2019-ncov/
Janssen/Johnson and Johnson
(
Remicade
), (
Simponi
) (
Stelara
)
Johnson & Johnson has robust business continuity plans in place across its global supply chain network to prepare for unforeseen events like the coronavirus outbreak. These steps include maintaining critical inventory at major distribution centers away from high-risk areas and working with external suppliers to support our preparedness plans. We are closely monitoring product demand and supply levels across our global network to ensure adequate and effective distribution, and working diligently to meet patient, customer and consumer need. For more information:
​​​​
http://www.jnj.com/coronavirus
Eli Lilly
(
Taltz
)
Lilly does not currently anticipate shortages for any of our medicines, Globally, our manufacturing network is operational and taking steps to prevent impact. We're also in close communication with key suppliers regarding supplies of raw materials. As the global situation evolves, we will continue to take the steps necessary to safeguard the reliable supply of our medicines. Lilly has a global monitoring system that allows us to be in the best position to determine the necessary supply of medicines to meet our obligation to patients and health care providers in each country For more information:
​​​​​​​
https://www.lilly.com/news/stories/coronavirus-covid19-global-response
Merck
(
Renflexis
)
While supply and demand vary by product, there are not any current impacts from COVID-19 on the production and supply of our medicines and vaccines for the U.S. However, we are working to assess an increase in demand for our pneumococcal vaccine. As communities around our manufacturing facilities are impacted by various social distancing measures implemented by authorities, we will assess the impact of reduced staffing levels on our supply chains.
For more information:
​​​​​​​
https://www.merck.com/about/featured-stories/how-we-are-responding-to-the-global-pandemic-COVID-19.html
Novartis
: (
Cosentyx
) (
Ilaris
)
Currently, all Novartis manufacturing sites as well as our major suppliers are operational. At this time, we are confident that our stock is sufficient to cover production/ distribution needs. Furthermore, we do not currently anticipate any major supply chain disruption due to the coronavirus outbreak. For more information:
https://www.novartis.com/news/coronavirus-disease-covid-19-update
Pfizer
: (
Celebrex
), (
Inflectra
), (
Lyrica
), (
Xeljanz
)
Our manufacturing and supply chain professionals have been working non-stop to ensure that the global supply of Pfizer medicines continue to be available to patients. As of now, we have not seen a disruption in our supply chain, and all of our plants in impacted areas around the world are operational. We have implemented an unprecedented and comprehensive preparedness plan to control our site operations and will continue to provide timely updates if there is any new information to be shared.
​​For more:
https://www.pfizer.com/health/coronavirus
Sanofi
(
Kevzarra
)
As of today, we are working to maintain the supply of all our medicines and vaccines, critical for patients with other illnesses and to maintain public health, through close collaboration with our suppliers throughout the world. Our global industrial network is operational, including France, China and Italy, and the diversity of our sourcing allows for business continuity across all our medicines for the time being.For latest update from Sanofi on coronavirus:
https://www.sanofi.com/en/about-us/our-stories/sanofi-s-response-in-the-fight-against-covid-19
Sobi
(Kineret)
NOTE: Sobi does not have an official statement about potential shortage of Kineret. If you have a question about your medication: Call: 781.786.7370
UCB
(Cimzia)
Despite the rapid emergence of the novel coronavirus and the challenge presented to healthcare systems around the globe, UCB has not experienced shortages for any of our products due to this epidemic.
Our global manufacturing and distribution network continues to be fully operational and UCB remains in constant contact with our global network of key suppliers, manufacturing partners, and distributors to identify potential risks and take appropriate measures to avoid any disruption. At this time, we do not anticipate any supply disruption of our products. For more information:
https://www.ucb.com
Symptoms and Exposure
Q: What are the symptoms of COVID-19?
A: Most people – about 80% or more – have mild symptoms similar to a cold or the seasonal flu. Fever, cough, and shortness of breath can show up two to 14 days after infection. (An unpublished study suggests the incubation period may last a week longer). A small number of people develop severe pneumonia, and a few become critically ill. Some people who test positive for COVID-19 never get sick but may still be able to spread the virus.
Q: What should I do if I think I have this virus?
A: Call your primary care doctor or rheumatologist right away. If you feel very ill or are having trouble breathing you should call 911 or go to the emergency room. Your doctors can help guide you on whether testing should be performed (currently this depends in part on where you live and the local policies). Your rheumatologist can help you figure out whether any of your medications should be stopped.
Your doctor can also help you decide how to treat your illness. If you have a more mild illness your doctor may recommend that you rest, drink liquids, take tylenol or NSAIDs for fever, and stay isolated from others. If you have a more severe illness you might be sent to the hospital to be monitored for complications such as pneumonia.
Q: If I am infected, is my family at risk?
A: If infected, you should isolate yourself at home for at least 14 days. If possible, have others use a separate bathroom and not handle or touch objects you've touched without gloves. Cough and sneeze into the crook of your elbow, not your hands. Everyone should wash their hands thoroughly and frequently (using separate sinks if possible).
Testing
Q: Who can get tested for coronavirus?
A:
Right now, the testing situation is still fluid. Not everyone who wants a test can get one, but public health officials and private companies are scrambling to make it easier for more people to get tested.
Until testing is more widely available and the shortage of protective gear and supplies eases up, authorities are asking that only high-risk people and the sickest patients get tested.
Generally, to qualify for testing, you will have to have symptoms compatible with COVID-19: a fever, cough, shortness of breath and possibly gastrointestinal issues. (The CDC has a
Coronavirus Self-Checker
. If you have symptoms of COVID-19, contact your doctor or your local public health department to find out if you qualify for testing, what type of facility is available near you, and what steps you should take to prevent infecting others when going to get tested. Some cities/counties have already set up drive through options.
Q: What should I expect during the test?
A: It's done the same way as a flu test. A health care worker takes a swab from your nose and mouth. The sample is sent to a lab, where it's checked for genetic material associated with the virus.
Q: What should I do if I test positive?
A: If you test positive and have mild symptoms, the CDC advises that you can isolate and care for yourself at home. But if you also take immunosuppressant drugs, talk to your doctor because limited data has shown that some medications used to treat autoimmune types of arthritis may increase your risk for a more severe disease course.

Older adults and those with severe underlying chronic medical conditions (like heart or lung disease or diabetes) appear to be at higher risk for developing more serious complications. Because of that, contact your doctor even if your illness is mild.

If you have severe symptoms, such as trouble breathing or persistent pain/pressure in the chest, get medical attention right away.

If you think you need emergency care, call ahead to alert your doctor or the hospital. If possible, wear a mask to protect others.
Insurance Coverage
Q: Will my insurer cover all expenses for testing and treatment related to COVID-19 (coronavirus)?
A: Several insurers have activated emergency plans, new procedures or waivers related to copayments, deductibles or coinsurance for telemedicine/telehealth services, testing and medical and behavioral treatment for COVID-19 related expenses. Some have updated procedures for prior authorizations, at-home services and prescription refills and delivery. Get more information from the American Health Insurance Plans (AHIP)
health insurance provider response page
or contact your health insurer directly.
Q: Is there a special open enrollment period for Affordable Care Act?
Anyone who has a "
life changing event
" including loss of coverage, or who expect to lose coverage in the next 60 days, can apply for ACA special enrollment period.
https://www.healthcare.gov/coverage-outside- open-enrollment/special-enrollment-period/
.
If you lose job-based coverage, you could also qualify for
COBRA coverage
. Talk to your employer about your COBRA options.
California, Colorado, Connecticut, Maryland, Massachusetts, Minnesota, Nevada, New York, Rhode Island, Vermont and Washington state
have announced that people without insurance can sign up for a plan — even without a life-changing event.
Financial Assistance
Q: Where can I get financial assistance for my biologic medication?
Juvenile Arthritis
Q: Are kids with arthritis at increased risk from coronavirus?
A: Based on Chinese data, kids get COVID-19 far less often than adults. Many who are infected have no or very mild symptoms. Still, this may not apply to kids with arthritis. Erica Lawson, a pediatric rheumatologist and associate professor at the University of California, San Francisco, writes that each child with rheumatic disease is unique. She notes that "factors such as disease type, disease activity, degree of immunosuppression, and organ involvement, will affect the amount of risk from a coronavirus infection." Dr. Lawson recommends that patients and families "make decisions in consultation with their rheumatologist to get the best possible guidance."
Q: I'm concerned about my child with JA contracting the coronavirus. What are the steps I can take to keep my child safe?
A:
It's natural to worry about your child's infection risk. Michael George, rheumatologist and infectious disease expert at University of Pennsylvania in Philadelphia says the good news is that kids, in general, seem much less likely to get a severe illness from the virus.
Pediatric rheumatologist Richard K. Vehe, MD, director of the Division of Pediatric Rheumatology at University of Minnesota Medical School in Minneapolis, says there are some steps that can help protect your child. The most important thing you can do is to follow the general prevention advice that applies to everyone. The Centers for Disease Control and Prevention (CDC) website,
cdc.gov
, has general and specific advice on how to prevent infection. It's updated frequently, so check back regularly. Some of this advice includes, but is not limited to, the common-sense things such as washing hands often, avoiding touching the face and avoiding close contact with those who are sick.
When it comes to medications, we don't know that they increase your child's risk of getting this virus, so we recommend that you continue them, as usual, to stay healthy. If your child does get this virus, contact your child's rheumatologist immediately. In some special circumstances, some medications might need to be increased or decreased.
Online Community
Hot Topic Online Discussion
Share your coronavirus and arthritis thoughts, tips, stories and ask questions to our subject matter experts in the coronavirus discussion. If you are new to the community, you'll need to register. Click "Join a Discussion" to access the Hot Topics – Coronavirus forum.
Learn More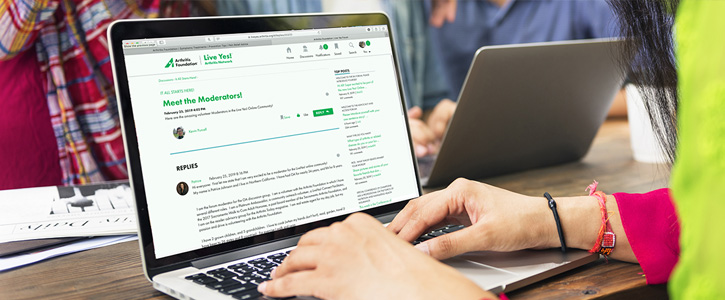 Coronavirus Updates
Sign up today for email updates on coronavirus and arthritis.