Fiskars® Gingher Spring-Action Knife-edge Dressmaker Shears 8 inch
The Fiskars Dressmaker Shears have a spring-action design with a double-plated chrome finish and a bent handle to hold fabric on a flat tabletop.
Product Description
These Dressmaker Shears feature an innovative spring-action design that gently opens the blades after

each cut, reducing hand fatigue to make cutting virtually effortless. They are so to cut with that they have earned the Arthritis Foundation® Ease of Use Commendation. These shears also feature long, precision-ground, knife-edge blades that cut multiple layers of fabric easily, all the way to the tip. They offer a longer cut ideal for cutting patterns, trimming seams or cutting long swaths of fabric. A double-plated chrome-over-nickel blade finish is both striking and durable, and the bent-handle design helps hold fabric flat on a tabletop or counter for smooth, comfortable, mistake-free cutting.
Ease of Use Program
Products proven to make life easier
Learn more about the extensive testing these products go through as well as tips for selecting easy-to-use products.

Learn More
Disclaimer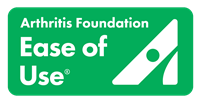 The Arthritis Foundation's Ease of Use Commendation Program recognizes products proven to make life easier for people who have arthritis and other physical limitations. Independently tested by experts and evaluated by people with arthritis, Ease of Use products are easy to use for everyone.
Stay in the Know. Live in the Yes.
Get involved with the arthritis community. Tell us a little about yourself and, based on your interests, you'll receive emails packed with the latest information and resources to live your best life and connect with others.