BD Nano™ 4mm Pen Needles
BD Nano(TM) now has needles with EasyFlow, making injecting easier for those with arthritis.
Product Description
BD Nano™ 4mm Pen Needles now with EasyFlow™ Technology makes injecting even easier by reducing the force needed to push the pens thumb button by 62%!
‡1
BD Nano™ 4mm Pen Needles are also the first and only pen needles with patented PentaPoint™ Comfort 5-bevel technology for greater comfort.
2
Experience the difference with BD's shortest and thinnest pen needle!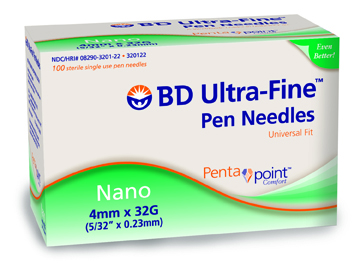 ‡
Compared to their current pen needle on leading pen brands
1
Aronson R, et al. Effects of extra thin-wall needle technology on preference, confidence, and other patient ratings. Clinical Therapeutics. 2013 Jun 20. doi:pii: S0149-2918(13)00308-1. 10.1016/j.clinthera.2013.05.020. [Epub ahead of print].
2
Hirsch LJ, et al. Impact of a Modified Needle Tip Geometry on Penetration Force as well as Acceptability, Preference, and Perceived Pain in Subjects with Diabetes. J Diabetes Sci Technol 2012; 6(2):328-335.
Ease of Use Program
Products proven to make life easier
Learn more about the extensive testing these products go through as well as tips for selecting easy-to-use products.

Learn More
Disclaimer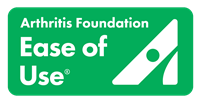 The Arthritis Foundation's Ease of Use Commendation Program recognizes products proven to make life easier for people who have arthritis and other physical limitations. Independently tested by experts and evaluated by people with arthritis, Ease of Use products are easy to use for everyone.
Stay in the Know. Live in the Yes.
Get involved with the arthritis community. Tell us a little about yourself and, based on your interests, you'll receive emails packed with the latest information and resources to live your best life and connect with others.