Meet a Drummer Who's Beating Arthritis
Steve Michaels is a young man who's been through a lot, dealing with the challenges of arthritis while growing up. Today, he's a successful businessman who wants to inspire others on their own journey.
At about age 3, Steve Michaels' symptoms started in his knees, and he was soon diagnosed with
juvenile rheumatoid arthritis.
By the time he was 7, the pain had rapidly spread to every joint in his body. "Between 7 and 11, I was basically living at Miami Children's Hospital because of my flare-ups," he says. "Ice baths were common every day, therapy three times a day. That's how I grew up."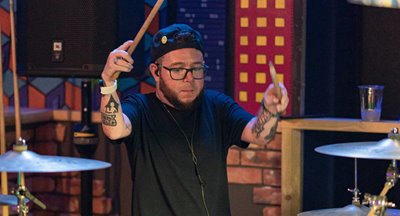 Steve regularly had high fevers, chills, sweating and joint stiffness. Also, "the lock-up, meaning you can't move. Movement hurt so bad that you're going to cry or you're just not going to move." He took multiple medications, including injectables — up to nine shots a week — and steroids. "They gave me the entourage of medications at a very young age. I was definitely a guinea pig," he says.
Steve also often felt alone. "I would see my friends on the monkey bars and going down the slide at the park, and I was watching from the sidelines in my own space because of my limitations." Still, he had to take out the trash, wash the dishes and do other basic chores that other kids did.
"It wasn't always a happy time," he remembers. "I was made fun of, picked on, bullied. But I always had good friends who had my back, who said, 'Don't mess with Steve-O because he's different.' They didn't see me as disabled. I'm more able than a lot of people."
"I couldn't walk unassisted for two years."
Steve has had both of his knees and elbows replaced. He also had surgery on his legs and hips by a novice surgeon, which almost left him immobile. "Straight out of the operating room, they cast both of my legs bent, so my heels were touching my butt. They kept me like that for four months," he says. "When I got off the casts, my legs had atrophied. They were stuck, bent at 120 degrees. I couldn't straighten my legs to stand up. It took two years of aggressive therapy and gym training to get back to where I was."
"It was a big surprise to everyone that I went from the year before in a wheelchair to on my feet," he continues. "It was my goal, starting my sophomore year in high school, to stand and walk unsupported. I was in a band, playing four or five nights a week. I'd roll up to the stage and get out of my wheelchair, hop on my drum set and play a full show."
Steve's passion for drumming started when he got his first drum set at age 13. "It grew into my talent," he says. "I did jazz, orchestra and marching band in school. I learned all the rudiments and basic structure. Then, I started playing live music that people wanted to hear."
Steve (right) with his friend since childhood, Joe, at their local Walk to Cure Arthritis.
He invented his own tricks to beat obstacles.
His condition prompted Steve to come up with his own ways to beat obstacles. "I'd figure out how to make things work, and I still do to this day," he says. "Like, when I couldn't walk the trash outside, I'd put the trash on my office chair and roll it outside. I can't bend over to pick something up off the ground, like my keys. But I'm a professional at leveling it on my foot, throwing it in the air and catching it. I figured out how to bend over without bending over. There's always a way to do something."
Steve got involved with the Arthritis Foundation around age 9. For four summers, he attended our
JA camp,
Boggy Creek. At 11 or 12, he participated in the "Magic of Caring Fashion Show" fundraiser. And in high school, he was part of a fundraiser called "Rock Your Bones," raising $10,000 for the Foundation in a tip pile.
"The Arthritis Foundation was kind of a home for me," he says. "They are somebody to reach out to, to talk to, to bounce ideas off of. It's very motivational to have the Foundation doing that, as well as trying to find a cure, which I know is the end goal. We don't want arthritis around."
We have the ability to adapt and make changes.
Now 35, Steve feels like he's in a good place with his body and mind and understands what his body likes and dislikes. "The cliché of 'your body is a temple' is so true with an autoimmune deficiency. You have to take into account things that are good for you and things that are bad for you. Your body is different than every other body. Every body needs something different."
What's Steve's advice to others battling arthritis, whatever their age, about getting through the hurdles? "We were dealt the cards we were given," he observes. "What makes that unique, in my eyes, is our ability to adapt and accept change. Because with our bodies, they're changing all the time, for good or for worse.
"These things that we face: Instead of obstacles, I think of them as just another goal that I didn't hit yet. Any time there's something in my way or something I can't do, I'm just going to figure out how I can do that my way, and what works for me."
"I can't jump a BMX bike and do a back flip, but my friends can," he says. "I can set up my drums in the garage and play for them while they're all hanging out and jumping ramps. I'm the musician in the background, playing drums in the garage. I'm doing something that I love.
"Nothing's impossible. I'm possible. Don't ever give up and figure it out. There's always some other way that works for you. You've just got to figure it out."
Stay in the Know. Live in the Yes.
Get involved with the arthritis community. Tell us a little about yourself and, based on your interests, you'll receive emails packed with the latest information and resources to live your best life and connect with others.